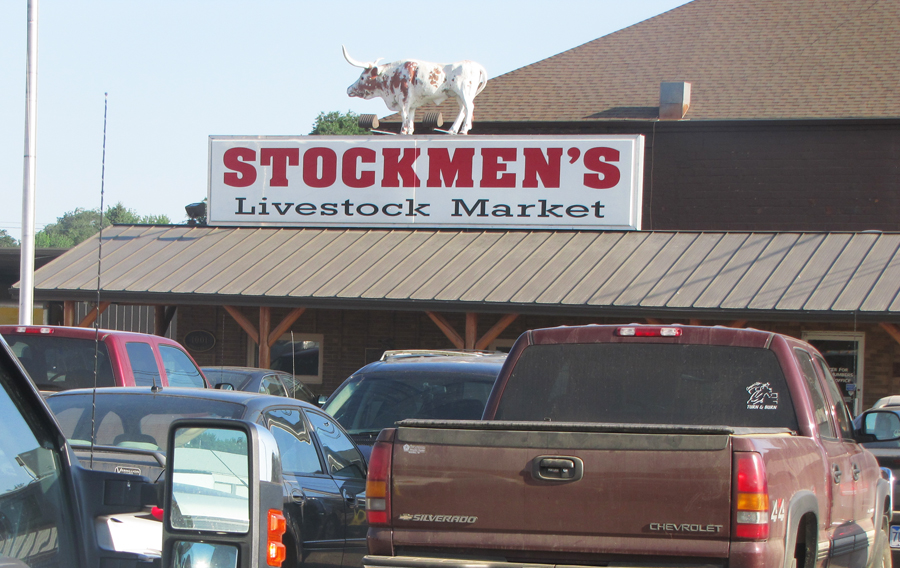 Vehicles, mainly pickups, jammed the parking area in front of the Stockmen's building on East Hwy. 50 this week. A welcome sight, considering many months of an empty lot and nothing happening in the building. | (Observer photo by Dan Merritt)
Observer Staff and Office Information
Kathy Church and Kristy Wyland | Publishers | kathy@ycobserver.com
Kathy Church | Editor
Dave Wyland | Production Manager & Staff Writer
Jim Anderson | Advertising | ads@ycobserver.com
Dan Merritt | News Editor

The Observer office hours are 9 a.m. to 5 p.m. Monday - Thursday and 9 a.m. to 4 p.m. Friday. The office is located at 308 Douglas Ave. in Yankton. If you ever have any questions or information for us, you can always call (605) 665-0484 to speak to us or leave a message.
Read all about the happenings from the Yankton area!! Here's a few things in the paper this week .... Extreme Bull Riding ... a couple photos to enjoy. Needed: courage men for Walk A Mile in her Shoes. AND SO MUCH MORE!!!
This and That Gloria Lippert. The Good Old Days with Marilyn Kratz. Hot Flashes with Kristy Wyland. Focus on Farmers - meet Marlin Groth - Farmer of the Month. Sports Talk with Brian Hunhoff.
Amateur All-Star Tommy Huether. Sport Light Miles Carda.
Sports, photos, obituaries, stories, jokes, cartoons, birthdays ... and so much more! Twenty eight pages of local information!
Cartoon by Jim Anderson.
Got something to get off your chest? Let us hear about it! We love to print "Letters to the Editor" from our subscribers, and encourage them to write to us. Subscribers, send your letters to PO Box 98, Yankton, SD 57078 or e-mail them to kathy@ycobserver.com. Check out http://www.ycobserver.com/policies.php for our full letter policy.
Traveling somewhere? Don't forget your camera – and your Observer! Send photos of you, your family or friends with Observers from different or exotic places, and see yourself in print! Print photos can be sent to us at 308 Douglas, Yankton, SD 57078, or high resolution jpegs can be e-mailed to kathy@ycobserver.net.
When you subscribe to the print version of the Yankton County Observer, you'll have one of South Dakota's best weekly newspapers delivered to your mailbox every week.
Photos, news, features and often-controversial opinions are key to each issue of Yankton's ONLY locally-owned newspaper.
And being a part of our family of readers allows subscribers to share their own opinions and family news with other readers, as well!
So don't miss out on another issue. Call (605) 665-0484 to subscribe or renew today!